When you do the lautering, it is easy to get stuck grain bed or hard to get a clear wort. Here are some ways to consider to avoid the stuck in brewing equipment.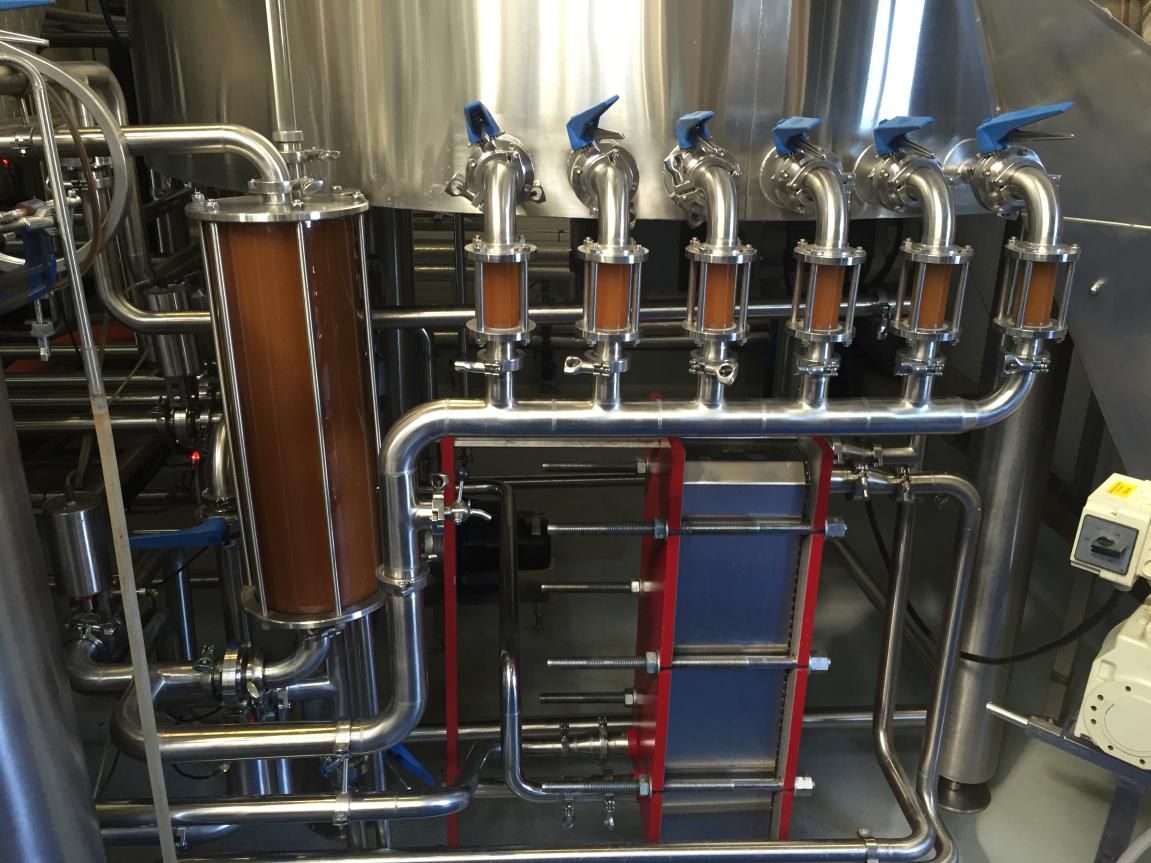 1)Underlet: The grain bed needs to be well established so that wort will flow at a
reasonable rate and clarify it adequately. If you are using a false bottom in your
lauter tun (or combitun), add hot water to cover the false bottom before adding
the grain. This process is called underletting and will help prevent the grain
bed from becoming too compacted.
2)Control the speed of runoff: The grain bed can also be compacted if the wort
is run out too quickly during vorlauf or sparge. Be patient.
Depending on your system, you can control the flow rate using a ball valve or
other special valve. Or assemble a grant as a buffer tank to lauter the wort by
gravity.
The pump equipped with VFD is also a good way.
3)Get a proper crush: Milling the grain too finely is a very common cause of a
stuck lauter. If there is an inadequate amount of intact husk material, the fine
particles will stop liquid flow through the bed.
4)Control wort viscosity: High molecular weight proteins and beta-glucans
increase wort viscosity and slow the lauter. Raw grains, such as unmalted
wheat and oats, tend to be high in these tun-clogging substances.
Using a step mash that emphasizes the appropriate temperature rests will minimize these problems.
Wort viscosity is also dependent on temperature. Higher temperatures
decrease a liquid's viscosity, so a well-insulated lauter tun will promote the free
flow of wort. The temperature of the grain bed should be maintained as close
to 168 °F (75.5 °C) as possible. In my experience, an all-barley malt grain bed
can get as low as 145 °F (63 °C) without any problems, but it is best to keep
the temperature higher.
5)Consider your malts: Wheat and rye malts present special challenges to the
brewer because they lack husks, which means they contribute nothing to the
filter bed. Use of these grains makes it that much more important to have
plenty of intact barley malt husks (or to use oat or rice hulls as a lautering aid).
Craft brewing equipment now is becoming more and more reasonable design.
Welcome to contact us to inquiry brewery equipment.
www.brewerybeerequipment.com
Tag: where to buy brewers yeast for beer /   / Avoiding a Stuck Lauter /  where to buy beer making system /